In 2006 we only found one stranded pup during the whole season In our monitoring zone of Dundrum Bay, Co. Down. This was a female pup, whom we called Lora.
Lora was first seen over the high water period in the morning of June 24th at the Minerstown nursery site. She was seen swimming to and fro, and crying, but no mother appeared to claim her.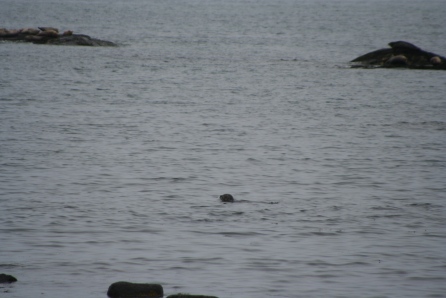 We returned at low water – when all other seals had left the site for rocks further offshore, to find Lora alone on the rock, sucking on her hind flippers. We picked her up and took her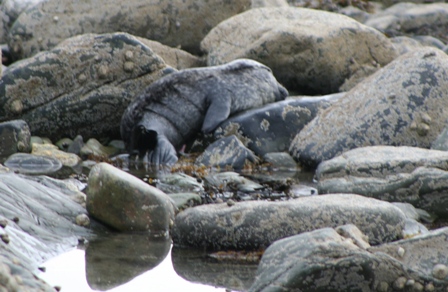 home at about 8pm – by which time we knew that there was no chance of her mother reclaiming her. We named her 'Lora' after the famous seal in Rowena Farre's classic, 'Seal Morning'. Lora was a good birth-weight (11 kg), and apparently healthy, although she developed pneumonia a few days later. However, this was quickly cured with an antibiotic course.
She was a very gentle and affectionate pup, and suckled energetically on 'Doggle' (an old, handmade doorstop!). Despite her fondness for Doggle, however, we were unable to persuade Lora to suck from a bottle, so she had to be tube fed.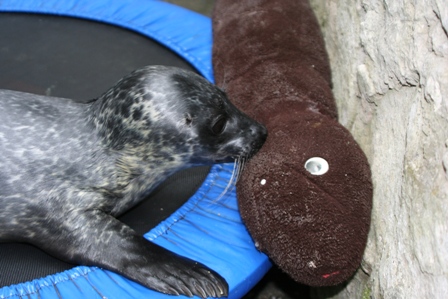 Lora became the star of the BBC Coast programme for the NE Ireland section (Coast series 2). She had a natural talent for 'acting', and was very cooperative at re-enacting scenes for the camera to shoot her at different angles!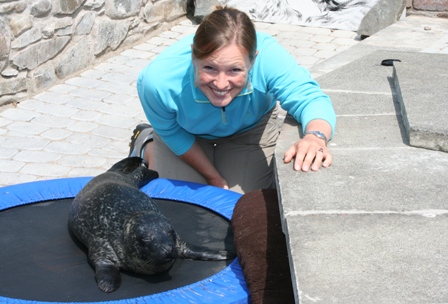 Lora with Miranda Krestofnikoff of the BBC Coast team
Lora was taken into the sea at Minerstown for a 'training' swim shortly before being released.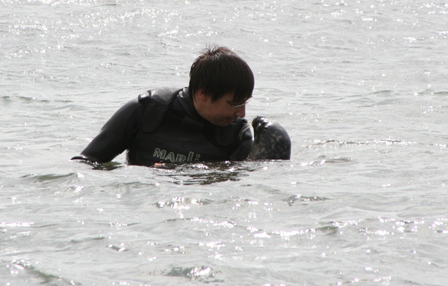 We then glued a small plastic disc to the top of her head with her name and email address on it, and also a yellow paint mark on her back, to facilitate identification after release.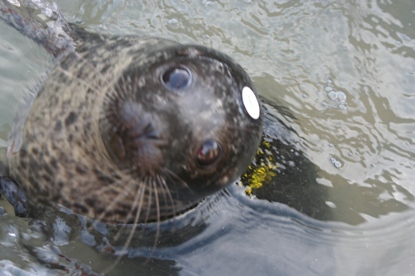 Having gained 10.5 kg in 36 days, she was finally released at Minerstown on July 30 weighing 21.5 kg. There were no reports of her after release, so we hope that no news meant good news.